Install Theme
Your web-browser is very outdated, and as such, this website may not display properly. Please consider upgrading to a modern, faster and more secure browser. Click here to do so.
liberté
égalité
fraternité
I'm Frank. 23. San Jose, Calif.
Senior Psychology major at San Jose State. Just applied at my University to pursue Master's degree in Urban Planning
I dream of one day being able to go to France, I been taking French for a year and I am in love with the culture, the cuisine and the people. Maybe I'll live there if something keeps me.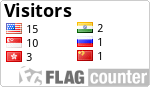 users online
Apr 8 '12
★